Christmas is often associated with lavish decorations that exhibit the beauty and splendor of the yuletide season. But while traditional holiday decorations are a popular choice, there are still home owners and home decorators who prefer something simple yet equally refined, something less busy and less intricate – a style that perfectly matches the modern aesthetics of today. Here are several minimalist and modern ideas that are ideal for the holidays:
Creating a Striking Modern Display on Your Mantel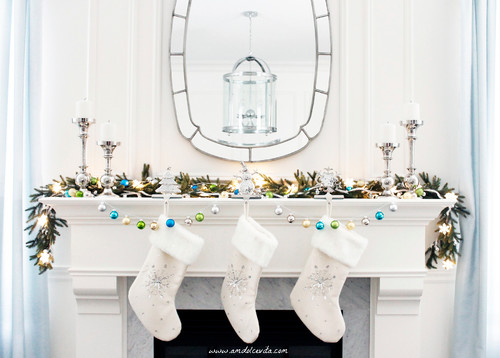 The key to a sophisticated minimalist display is to use very little color. In the photo, we see an elegant mantel that features subtle but captivating pieces. The slender Christmas garland and string of lights give the mantel a holiday touch, while silver candleholders effortlessly offer a stately gesture. What's particularly interesting about this is that the light illuminates the metal ornaments, creating a dazzle that doesn't overpower. At the same time, the garland, with those chartreuse and turquoise balls and silver accents, highlight the pieces above while guiding our eyes toward the classic white Christmas stockings that add a dash of character.
You can also bring in the winter landscape without going overboard with your decorations. This is masterfully achieved in the image above. In the photo, we see a garland serve as a field. On top of the greenery, we see several silver reindeer figurines and a few evergreen statues coated in a gray hue. It is a simple décor and it uses few colors, but it provides a pleasant vision of reindeer grazing in a pristine forest. Children and adults will love this enthralling showcase of subtle décor.
Rustic or country-styled decorative items and the minimalist aesthetic also go hand in hand. In the photo above, we see a traditional wreath without any ornamentation and a stylish white Christmas banner against a clean wooden wall. Paired with the items are several antique objects, including ceramic pitchers, a polished ampersand figure, and two framed photographs. This meek combination is proof that there is beauty and elegance in cozy simplicity.
For a more striking display that still complies with minimalist sensibilities, homeowners can also use a monochromatic pallet of neutrals from the gray family. In the image, we see a charcoal painting juxtaposed with branches as well as metallic baubles encased in glass. The iridescent light gray trees create a stunning image reminiscent of pastoral landscapes during the crisp season of winter. The look is made complete by an alluring silver wreath hung below the mantel, a festive touch despite the presence of dimmed tones.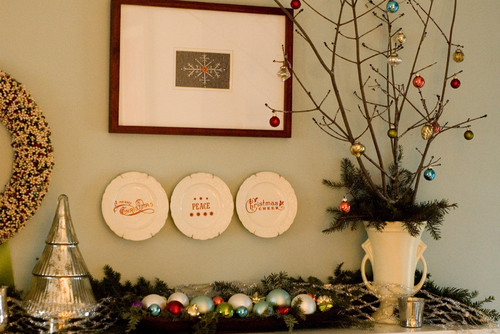 Minimalism doesn't mean that you can't use colors altogether. The photo above makes use of bright hues, such as red, gold, green, blue, and even pink. What's important is that the colors are placed in small increments and perfectly arranged in a way that they don't overwhelm. In this photo, we see some bright Christmas balls bring color to the tabletop tree even with noticeable gaps between them, while in the mantel, we see these colors separated by prominent silver balls. Don't forget to add white, chrome, or cream-colored pieces for that classic simple look.
Bringing a Clean Holiday Atmosphere into Your Living Room
Large holiday spaces, such as living rooms, can also be transformed into a minimalist setting. The key is to use ornaments sparingly. It is also important to make sure that there is enough space between décor and furniture pieces. In the photo, there are only four holiday pieces in the area: a Christmas tree, a small wreath, a garland, and three letters that spell the word 'joy.' A rug that features a simple geometric pattern, a cream-colored sofa set, hardwood floors, and several rustic items are juxtaposed with these yuletide items. This ensemble creates a clean and refreshing space that still conveys the joy associated with the season.
Filling Your Dining Room with Yuletide Sparkle
You can also bring this refined dimension into your dining spaces. Just keep everything simple. Instead of hanging ornate and colorful pieces, choose humble ones like framed photographs and artwork. For the table settings, choose timeless pieces, such as white plates, silver polished cutlery, and crystal goblets. Add a sprig from a fresh evergreen. This is enough to cast a clever touch of modernism on those lunch and dinner dates with friends and family.
Finally, for a more sleek and contemporary appeal, you can also use a wispy wreath and some greens with metallic ornaments. These are a perfect match for your dining table, and can brilliantly complement glossy sideboards, such as the one in the photograph. For added texture, you can also place a bark candle in the middle of the wreath or several white candles in the background. Notice how this holiday decoration enhances the lines and painting in the room instead of diverting all the attention to the decorations themselves.
Cast modern radiance on your holiday festivities with these minimalist holiday decorating ideas from the Balsam Hill blog!