One of the most unforgettable moments during the holidays is when the family sits down for a traditional feast and spends time together. This creates an opportunity for you to fill your dining room with the festive, cheerful, and stunning appeal of Christmas and show how much you care about everyone present. A great way do this is by preparing a beautiful table setting. Here are eight elegant Christmas table decoration ideas we love:
Class and Sophistication during Your Holiday Dinners
A timeless and refined tablescape is always a delightful option during the holidays. In the photo above, we see a lace placemat breathe an air of grace into the room. It is gorgeously accompanied by china with a silver border as well as silver cutlery, a combination that adds stately elegance. Finish it off with napkins wrapped in silver rings and glassware that echoes the pattern of your mat. Guests will certainly feel the beauty of a winter wonderland on your table.
Other than Christmas ornaments, white candles in glass or silver holders also serve as excellent table decorations. As seen in the photo, they not only complement the china; they also bring resplendence to mealtime to put everyone in a pleasant mood. Don't hesitate to add silver pine cones and paper whites to bring in winter's refreshing visage. This will make the table setting even more beautiful.
A Bright and Clean Atmosphere during Your Banquet
For a more inviting atmosphere, give your dining space a look of brilliance. One way to do that is to pair white decorative pieces with silver ones. In the image, we see the classic table setting paired with tree figurines coated in silver and several eclectic white ornaments, creating a cheerful and timely look. What's particularly great about this ensemble is that unique ornaments add a touch of newness to the holiday tablescape, while the blue contrast in the placements also deliver a crisp sense of beauty.
A Simple and Minimal Appeal during Christmas Luncheons
Sometimes, for simple spaces, a touch of holiday décor in a room is all it takes to make it ideal for the season. In this photo, we see a very simple table adorned with a burlap runner and a couple of white candles. The complete holiday experience is then brought into the room with the addition of the bare wreaths hanging at the back of the chairs. It is a humble addition, but it instantly fills the space with a dash of color and some yuletide spirit.
Gold brings radiance and an exquisite tone to your space. In the photo, we see a superb tablecloth made more beautiful by a graceful gold pattern. This is further complemented by the presence of gold utensils and glassware with a gold rim. The vision of resplendence is then gorgeously tied up by the arrangement of plates with gold borders, table napkins that echo the elegance of the tablecloth, and a cream-colored Christmas ball that serves as an accent. This lovely theme champions beauty and is a brilliant way to add a regal glow to your dinner party.
Casual and Rustic Elegance for Your Winter Meals
Greens can also be used as a magnificent and dynamic centerpiece for your table. Sprigs of fresh evergreens and potted topiaries add a fresh and lively atmosphere to your dining experience. For a dab of color, use burlap wrapped napkin rings and striped ribbons. You can also include white candles to accentuate the atmosphere brought on by your lovely plants. This decorative theme is a wonderful choice for dinner during those bright winter days.
A Touch of Floral Charm to Your Yuletide Meals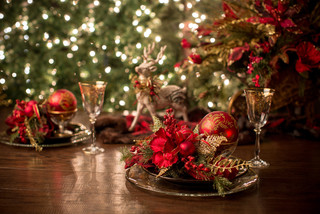 Tree ornaments also make excellent adornments on dining tables. This is true for red and gold pieces. Adding red flowers, Christmas balls, and gold twigs to wooden dining tables provides a dimension of charm that benefits the entire space. Pairing these with brown plates, transparent chargers, and wine glasses also creates a more sophisticated appearance. This look is especially perfect for those formal dinner parties with family, friends, and colleagues.
A Display of Festivity for Christmas Morning
You can also echo the sentiment that comes with reuniting with family by using red as a principal color. This hue spreads a tender charisma ideal for those moments with loved ones, while keeping the atmosphere of the room festive. On top of the clean tablecloth is a red runner that features adorable stars, complementing the fine wooden chairs adorned with plaid cushions. These are paired with white plates, white candles, red table napkins, and even a small red tree. The room sparkles even without the presence of metallic ornaments. Kids will especially love this vision of warmth. The display will remind them of sweet candy canes and tangy peppermint sticks.
Enjoy your holiday dining experience in style with these fine Christmas table decoration ideas from the Balsam Hill blog.
—-
Photo Credits
Photo 4, 5, 6 and 8 from Pinterest