For a time, lace was a popular decorative accent in traditional homes. Often seen in the form of tablecloths, doilies, and lamp shades, the intricate patterns and rich texture of the fabric have provided a comforting sight over the years. But modern design has paved the way for its comeback, with the focus now on the patterns instead of the fabric.
The secret to making lace more current is not to overdo it. In fact, just a bit of this graceful pattern makes your space more interesting. In the latest edition of My Balsam Hill Home, we feature six elegant ways to take advantage of the gorgeous texture and design of lace.
1. Wall Accents
You can add casual elegance to any room by slipping in bits of lacy details. Your home need not be covered in fabric. The simplest way to do this is with common home accessories such as wall clocks, mirrors, and art that feature floral patterns against solid colors. This contemporary clock matches the vintage lace pattern with the boldness of its wooden base.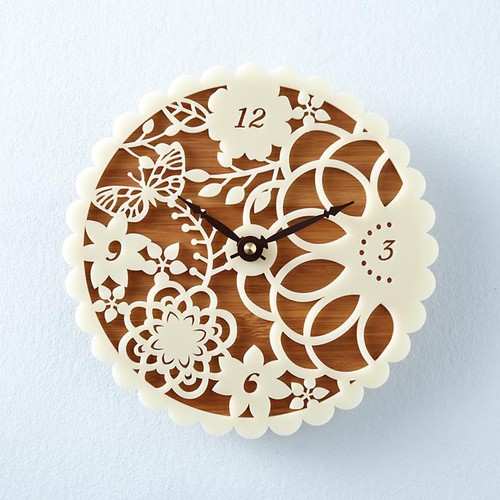 Contemporary Clocks