Blending form and functionality, coffee tables are the perfect statement pieces in your living room. The style of your coffee table anchors the overall look of your room. Highlight your space with these design ideas from Balsam Hill's selection of elegant coffee tables.
1. Coffee Tables with a Modern Edge
In a contemporary or transitional living room, a coffee table with rigid lines offers a beautiful counterpoint to a set of plush furniture. This contrast between softness and rigidity gives your living room an air of whimsy while maintaining that stately charm.
Take, for example, this clear glass coffee table. It unifies the look of a variety of living room furniture, such as the sofa, stool, and wingback chairs. The hard angles of the square glass table give structure to the space and anchor the shapes, colors, and patterns seen in different areas, from the ceiling to the floor. And because it's glass, the coffee table allows these elements to shine through without the glass surface adding too much visual weight at the center of the living room.
Another coffee table with a modern edge offers this clean and lean design ideal for a minimalist setting. The use of wood as the tabletop, however, offers subtlety and warmth to balance the edginess of the black frame. The nook also allows you to place books in order to leave the top uncluttered.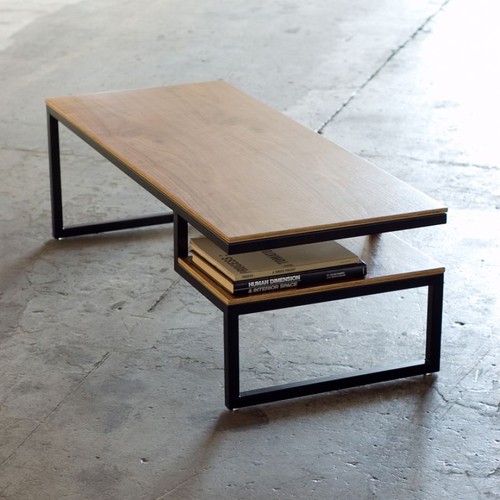 Multilevel coffee tables add dimension and visual interest to your living room. They exhibit a striking outline made richer and more sophisticated with the use of solid wood.