Winter Decorating Ideas: Wonderful Ways to Brighten Up Your Home with Candles and Lights
Winter brings unique beauty to any landscape, but at times, the nights can get too dark, too long, and too cold. The gray skies can often cast a melancholic mood on the entire household. So this season, give your home that much-needed warmth and embrace the radiance brought on by these marvelous lighting ideas as curated by Balsam Hill:
Fill Your Home with Gentle Radiance Using Candles
Candles have been filling homes with light for centuries. They are timeless – reminiscent of the past – and cast depth and elegance, making them the perfect way to add ambiance to any space. Candles with neutral shades are particularly ideal as they go well with most home décor. They also cast radiance in the areas of your home void of light.
For a more refined appearance, group your candles together and place them inside a glass cage. This keeps the wick safely lit and prevents the breeze from extinguishing the flame. The glass also adds texture and a stately appearance to any quiet corner. For a safer alternative that matches any décor, choose flameless LED candles that mimic the flickering effect of real candles. Since they are battery-operated and come with a timer, flameless LED candles create the same romantic glow without the fire hazard.
Standing candelabra can also be used to add further beauty to a candle's timeless grace. In this photo, candles and electrical lighting are combined to create a marvelous backdrop. This wonderful idea effortlessly fills rooms with an atmosphere of winter beauty. Place the string lights behind thin white drapes to give the space the illusion of gentle snowfall outside.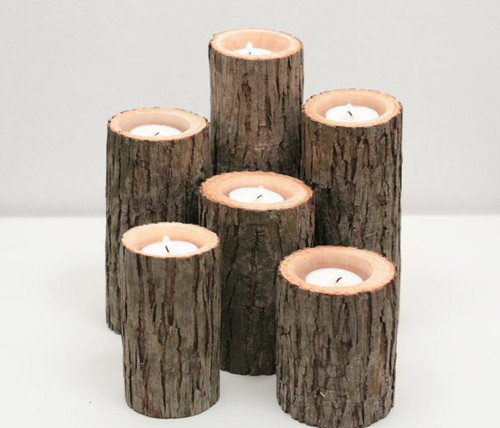 Today, candles can come in different shapes, textures, and sizes. Some even have their own unique containers or plates that add style to the already classic piece.
Add countryside charm while illuminating your room with bark candles. Not only do they deliver a warm atmosphere, they also convey a forest lodge feel that would make you want to sit by a cozy fire. These choices look great inside cabins or cottage homes. Together with other wintry accents, like a knitted throw for chairs and sofas, these pieces bring a rustic appeal that the family can enjoy.
Another way to add delight to your room is to hang bubble tea lights. When loved ones and guests walk around the area, they would feel as though they were wandering in a space strewn with enchanting stars or floating bubbles. Although installing these can be tedious and time-consuming, the result guarantees an unforgettable and magical experience.
Cozy Up Your Space Using Accent Lighting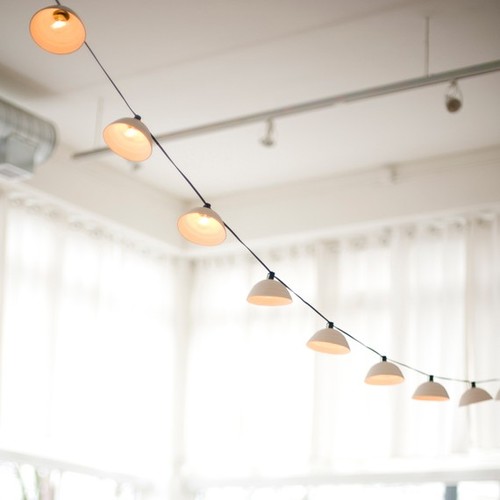 Pleated string lights are a marvelous way to add captivating luminescence and subtle character to your room. The ceramic covers are simple, clean, and easily blend with any decorative theme. These kinds of lights are a treat if you're hosting a dinner party. They may not be the predictable Christmas lights, but they add sparkle to the atmosphere all the same.
You can also install some track lighting. Although they're more permanent, they can bring a spotlight to your area and accent furniture. They can even be moved and positioned differently when the season changes or when you adjust the focal point of your room.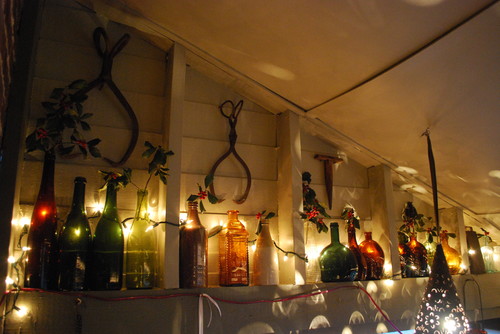 Another option is to use Christmas lights. String them on your recessed walls, banisters, mantels, and tables. To add a touch of color, surround them with colorful bottles or tinted mason jars. The light, coupled with the hue, will provide a whimsical spirit and cozy appeal to your room, which everyone will enjoy.
Take inspiration from classical lighting schemes. Add an elegant wall sconce with a candle bulb and crystal accents. Perfect for the corners of your living room, and an ideal addition to hallways, this light fixture creates a pleasant glow that fills spaces with a mystical and sophisticated appeal. You can also use the candle bulb all year long for sconces that don't have shades.
Fill Your Room with Life Using Your Fireplace
You can also pour salt inside a clear glass and stick a twig or a piece of a branch inside. This snow-like décor will contrast nicely with the roaring flame emanating from your fireplace: a vision of a winter evening that truly encapsulates the season.
If you prefer to have something a little bit more old-world, candlesticks and candles are again lovely choices. The soft radiance coming from these pieces provides a nice balance with the soothing flame coming from the fireplace. Make sure to pick out candlesticks that have a metallic finish. This will echo the color of the outdoors and even show how snow and ice shimmer against the light of the sun. Neutral subtle tones like these are also a refreshing break from the rich red, gold, and green often associated with the previous season.
You can also use tall candle holders for your mantel. In this image, the symmetrical placement of the candles highlights the star, which is the focal point of the room. The candles also benefit from the addition of an iron candle votive holder. It picks up the light from the mantel and also provides a unique way to convey warmth without using a traditional roaring flame. This focused luminescence keeps things neat and clean and provides opportunities for interchanging what is in the firebox.
Brighten up your home during those blue winter days with these exquisite lighting options from Balsam Hill.