Stylish Christmas Tree Toppers: An Expert Guide on How to Choose the Perfect Top Ornament
Decorating with a tree topper is the perfect finishing touch to a Christmas tree. Not only does a top ornament add another expression of delight to your holiday masterpiece; it also evokes a beautiful sentiment that communicates the meaning of the yuletide season for the family.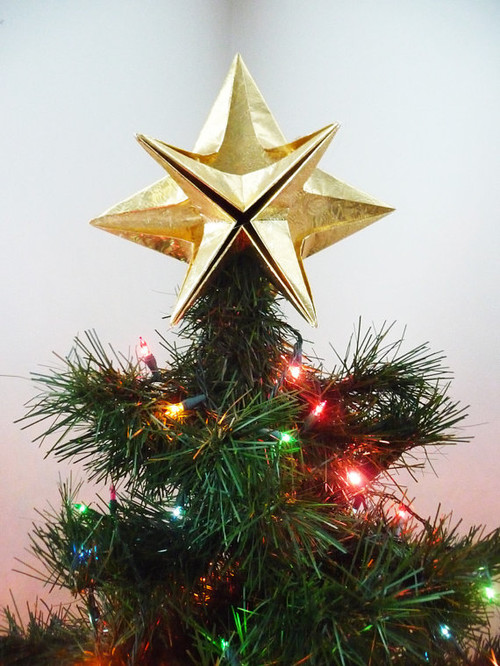 However, like other ornaments, there are certain matters to consider before finding the perfect one for your home. To help you with the process, here is a comprehensive guide that will teach you how to choose the best Christmas tree topper.
Envision Your Theme
One of the most common misconceptions that homeowners have is that any top ornament will do. Often, one's choice tree topper doesn't resonate the prevailing theme of the tree and the room. This produces a disparity between the tree topper and the rest of the decorations, compromising the lovely atmosphere created by the adornments. This even distracts people from the sentiments conveyed by the design scheme. That being said, it is important to envision the dominant motif in your room, and look for a tree topper that reflects just that.
For example, if your theme takes inspiration from classic holiday schemes, then a silver star tree topper is an ideal addition. Not only does the hue effortlessly complement traditional shades, but the shape also reflects timeless yuletide aesthetics. The thin graceful lines emanating from this star also adds a touch of radiance to your room. From afar, it seems like the star is casting an alluring brilliance on your tree.
Check a Tree Topper's Dimensions before Purchasing
Design is not the only thing you should consider. The height and width of a tree topper should also be factored in. Remember that there should be a distance of at least one foot between the tree topper and the ceiling. Also, make sure that the piece matches your tree's profile. If you have a slim tree, don't get a thick and wide tree topper. Find a piece that mimics and highlights the tall and slender proportions of your holiday tree.

Weight is another important factor. Some tree toppers are too heavy for certain trees; they might even cause a tree to topple over. A great way to check if it is too heavy is to put it upright in the palm of your hand. Be careful when you test it as it might fall. If it immediately leans in a certain direction, then it might be too heavy.
Adjust the Top Branches of Your Christmas Tree or Use an Extension Kit
There are nifty tricks homeowners use if they do prefer a unique tree topper. Bending the topmost branch of a tree sideways doubles the support for a larger top ornament.
Another fine idea is to use Balsam Hill's Tree Topper Extension Kit. This innovation makes your tree topper stand upright for the entire season. At the same time, it also adds stability and strength to your topmost branches in order to support a heavier piece.
Choose from Any of our Tree Topper Suggestions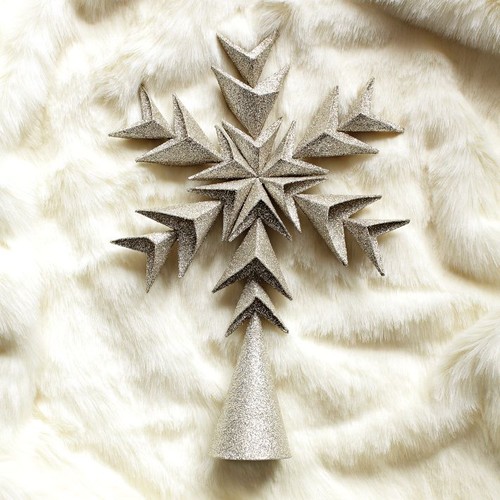 We know it's difficult to pick out a tree topper with the many options available out there, so here are several of our favorites. Stars are always classic choices as they depict the vision of tall evergreens seemingly reaching out to the stars. The one above is even more exquisite as it looks like a twinkling star while featuring the geometric patterns found in a snowflake.
Another superb piece that's always a match for the holidays is the classic angel tree topper. This does not only bring to life those sweet and inspiring stories about the origins of Christmas, but also adds elegance with its well-crafted form and graceful appearance. Finally, it also conveys the message of goodwill towards humankind, which comes during this lovely time of the year.
Tree toppers that make use of rustic pieces, such as pine cones and acorns, are also wonderful choices. This is an effective way of carrying the natural beauty of the wintry outdoors and the exquisite appeal of an alpine forest inside your home. Combined with the deep color of red, this makes for a captivating display, imbued with the refined elegance of the natural world.
Ribbon tree toppers have made a strong showing in recent years due to their attention-grabbing colors and flexibility because of their fabric material. Ribbons can be used for rooms with a low clearance, but also be given height by adding sprigs of various flora or even some glittered add-ons. You can also add a cascading complementary ribbon, like the one in the image, to tie in another style and color.
A vintage tree topper, such as the Santa Claus one shown in this photo, is also a good pick. This vintage piece not only looks jolly on your tree; it also reminds homeowners of previous Christmas seasons and motivates them to recall sweet holiday memories with the family. With this vintage throwback, you can feel the lovely allure of the past.
Get the perfect tree topper for your lovely Christmas tree with this expert guide from the Balsam Hill blog.
——
Photo credits
Photo 2, 5, 6, 7, 8 and 9 from Pinterest
by